Volume 15

The Letters of Lieutenant-Colonel Charles ŗ Court Repington CMG, Military Correspondent of the Times, 1903-1918

Click here to view a text extract from this publication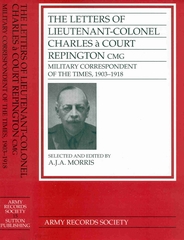 Lieutenant-Colonel Charles ŗ Court Repington CMG was a brilliant staff officer and it was expected that he would reach the highest military rank. But in January 1902 Repington was obliged to retire from the army - he was alleged to have broke the code of behaviour appropriate for an officer and a gentleman. To supplement his income he became a journalist and in an amazingly short time he was established as Britainís leading military correspondent. His reputation was deserved. He not only made the most of his army experiences and knowledge and unrivalled access to influential sources of information, but he also had the ability to write about complex subjects in an interesting, clear and simple manner.

Repington was an assiduous correspondent. This selection of the letters that he wrote while Military Correspondent of The Times covers those political, military and strategic issues upon which he campaigned. Historians today may debate just how influential Repington was, but his contemporaries never doubted that his was an important and significant contribution to the shaping of Britainís military response to Germany in August 1914. Throughout the First World War, until his resignation from Printing House Square in January 1918, Repington employed his pen in a series of hard fought battles, generally on the side of the General Staff against what he saw as the follies of politicians. By publicising the shortage of shells in May 1915, Repington played a not insignificant part in bringing down the last Liberal government.

Repington has been unfairly characterised as a too-clever-by-half, intriguing, unpatriotic scoundrel. His letters reveal something of his true qualities and character while also serving to illuminate the fascinating boundary where publicity and politics merge or, more often, collide.