Volume 16

Sir Hugh Rose and the Central India Campaign, 1858

Click here to view a text extract from this publication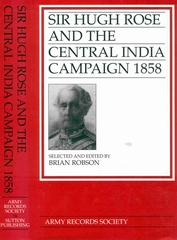 While the insurrection in Northern India in 1857-58 has been exhaustively covered by historians and is part of British folklore through events such as the Cawnpore massacre, the siege of Lucknow and the siege of Delhi, historians have neglected the equally vital campaign in Central India in 1858 which finally broke the back of the insurrection. Fortescue's chapter in The History of the British Army is marred by unaccountable errors and apart from short official history published in 1908 there has never been a full-scale account. Yet the campaign was led by one of the most remarkable generals in the British Army - Sir Hugh Rose, a name almost unknown to military historians - and the fighting matched in its ferocity and daring anything that happened elsewhere.

It is this gap in our knowledge of the Mutiny which Brian Robson, a noted military historian with a particular interest in India, has set out to fill by a judicious selection of original documents - letter, telegrams, diaries and operational orders. These are linked by a series of introductions to the various sections which constitute in themselves a connected history of the campaign. The documents reveal vividly the brutality on both sides and the harshness of the conditions in which the campaign was fought. The reveal much about the extraordinary character of Rose himself, who, without any experience of commanding troops in action, fought a brilliant campaign in which he revealed himself to be a commander of the highest talents in an effort lasting only six months, after which he never commanded again.

This book, meticulously annotated, with a detailed bibliography and biographical notes, fills a huge gap in the history of the insurrection which the British know as the Indian Mutiny, and is a major contribution both to the history of the British and Indian Armies and to the history of the Raj.