Volume 17

Lord Roberts and the War in South Africa 1899-1902

Click here to view a text extract from this publication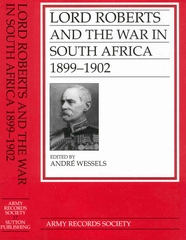 The Anglo-Boer War of 1899-1902 was one of the most important conflicts of the Victorian era and, significantly, not only spanned the end of Queen Victoria's long reign and the beginning of that of King Edward VII, but also the end of the nineteenth and beginning of the twentieth centuries.

After General Sir Redvers Buller's 'Black Week' defeats in December 1899, Lord Roberts was sent to South Africa to take over as Commander-in-Chief. Thousands of documents relating to Robert's direction of the Anglo-Boer War survive. The documents selected for this volume cover all aspects of his conduct of the war, including strategic planning, tactical intentions, logistical problems, and his views of senior officers.

Instead of invading the Orange Free State along the main railway line, Roberts launched an indirect strategy from his Modder River base, forced General Cronje to surrender at Paardeberg and occupied Bloemfontein, Johannesburg and Pretoria without resistance. Roberts handed over the command in South Africa to his Chief of Staff, Lord Kitchener, on 29 November 1900, and returned to England to take up the post of Commander-in-Chief of the British Army. In this capacity he continued to play a significant role in the course of events in South Africa until the cessation of hostilities on 31 May 1902.

In this publication, the Army Records Society's Anglo-Boer War centennial commemoration volume, 111 mostly hitherto unpublished letters written by or to Roberts, and a number of other relevant documents, have been reproduced in full. They include correspondence between Roberts and Queen Victoria, Lord Lansdowne, Lord Kitchener and Ian Hamilton.