Volume 29

The First World War Letters of General Lord Horne

Click here to view a text extract from this publication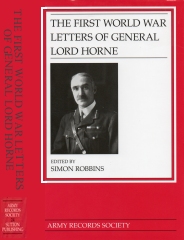 General Sir Henry (later Lord) Horne served as Sir Douglas Haig's Artillery Adviser and then commanded the 2nd Division, XV Corps and First Army. Apart from a brief sojourn accompanying Lord Kitchener to Gallipoli and Salonika in 1915, and as commander of XV Corps on the Suez Canal in 1916, Horne spent the entire war on the Western Front emerging as a respected, professional commander who helped develop the British operational techniques, notably those of the artillery, which made the victories of 1917-18 possible.

Horne's daily letters to his wife drawn from his papers in the Imperial War Museum allow a reappraisal of his reputation, which has hitherto been overshadowed, and in particular his service as one of senior commanders on the Western Front. Thanks to the patronage of Sir Douglas Haig and Sir William Robertson, Horne rose rapidly from relative obscurity through the ranks of the British Army's hierarchy. His letters shed light not only on his own personality and performance as a member of the British high command, which slowly matured into a successful cadre of leaders during the war, but also on the ethos of that group of senior officers and on how the victories of the British Armies prior to the Armistice of November 1918 were achieved.

The correspondence in this volume brings out vividly the pressures of command in some of the most important operations of the war. Although best known for capturing Vimy Ridge in April 1917, Horne deserves to be better known for his many achievements on the Somme in 1916, at Hill 70 in August 1917 and, above all, during the victorious advance of the last Hundred Days of the war between August and November of 1918. The defeat of the German Army was the result of the innovations carried out by leaders such as Horne who implemented the hard-earned lessons of 1915-17.